You can be an Effective Public Speaker
Public Speaking. Just the thought of it sends shivers down the spines of so many. In fact, when people are asked to identify their greatest fear, public speaking is typically the number of respondents.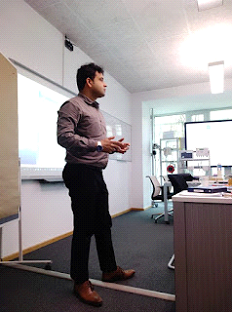 Organizations are always looking for effective communicators, so when you demonstrate that you can speak persuasively in public, you will advance more quickly in your career. You will also build confidence and self-esteem which will carry over into everything you do. You will be more influential in your interactions, both personally and professionally you will be able to contribute to the lives of others by informing them, entertaining them inspiring them.
First, let's talk about knowledge. You don't have to know everything on the subject. However, the audience should feel that you have done the research and /or have personal experience in that area. In short, You should know what you are talking about. That said, knowledge alone is not enough. You can be extremely knowledgeable but if you are not enthused about the subject, the audience will feel it …….and tune you out. Great speakers have a passion for what they are expressing.
At this point, I know many of you are still thinking. "I am just afraid to speak to a group of people". You may find this hard to believe but fear has nothing to do with your ability to speak effectively. Unless you are paralyzed to the extent that you cannot even open your mouth, fear is irrelevant. It is okay to be afraid. It is okay if your voice is shaking a bit. You can still be a tremendous speaker.
I know many professional speakers who are terrified before they go out and speak you would never know it and they do a fabulous job each time. On the other hand, I know many speakers who are perfectly relaxed every time they speak. Here again, they captivate the audience consistently. The point is, fear is not what separates good speakers from bad speakers and fear is not what is preventing you from being a good speaker.

The only thing standing in your way is technique. There are several techniques great speakers used to be effective communicators; ineffective speakers seldom use these methods. So are you ready for Part One of the secret keys to success for delivering effective presentations of five minutes or longer? let's get started.
1. Speak from notes – not from a verbatim script:
There is nothing wrong with having notes to remind you of the main points you want to include. On the other hand, when you read from a prepared script you "disconnect" the audience and people get bored. You should know the topic well enough to speak from notes. In the beginning, you will nervous and you may need to look at your notes a lot. That's fine. As you speak more often. You will rely on your notes less and less. Another suggestion: put your notes on both sides of an 8.5″ x 11″ sheet of paper. It's better than having a bunch of small index cards that you need to keep flipping. Before your presentation, rehearse over and over with your notes.
2. Keep it conversational:
Most people think they have to use big words or alter their normal speak style when they speak in public. Not true. Use simple words and convey them just as you would if you were sitting with friends in the den. You will from across as "real" and establish rapport with the audience. It is okay to pause or to be less than perfectly articulate. After all, isn't that the way you speak at home? Of course, if you say "um" or "like" consistently, that's something you have to work on. But don't feel that you need to be absolutely perfect.
Do not stand behind the lectern:
When you stand behind the lectern. You create a barrier between you and the audience. The moment you get rid of that barrier, you connect with the audience at a deeper level. What do you do with your notes? Have a small table next to you where you can set down your papers. Stand to the side of the table – not behind the table.
4. Do not tell them everything you know :
Let's say you have 30 minutes of for your presentation. Most novice speakers will try to cram everything they know into that period. However, the audience can digest only so much in this span. Select a few main points that your wish to make. You can always come back and share more of your information in another presentation.
5.Use stories to illustrate your points:
You want people to pay attention and to remember your presentation, tell stories that support your points.
Where do you get your stories? Your most effective stories come to your own personal experiences. Think about something that happened to you, a co-worker or a member of your family. Think about funny habits or traits that have, you can see better results in your presentation.
6. Sprinkle humor thought your presentation:
There is a well – known saying among professional speakers that "you only have to use humor if you want to be paid!" Humour keeps people interested in gets them laughing and builds rapport.
When using humor make yourself a target of the humor. Do not embarrass insult anyone in the audience unless you are certain the person will not be offended. One final point: stay away from jokes about sex, religion or highly charged political issues. This will be backing on you.
7. Your opening should grab attention:
Most speakers start our saying. "It is great to be here today." Not very exciting, a nice friend is it? it's also a mistake to start with a joke, unless you have extraordinary comedic talent and timing.
8. Use props and involve the audience:
Variety creates interest. Take a break from simply being a "talking head" and introduce a prop or an audience participation exercise now and then.
9.Prepare a powerful closing:
An Effective closing usually has two comments.
First, you briefly summarize the points you made in your presentation. For instance, "This afternoon, covered three strategies for effective networking." You then quickly state those principles again.
Second, you want to leave the audience with a "call to action" – that is, you want to inspire or challenge them to use the material you have just given them. You might say something like this:
You can also close with a powerful story on it for an inspirational quotation.
10. Avoid questions and answers sessions is possible:
The Q and A sessions sound like a great idea. After all people can ask questions and you can extend what you said in your talk. The reality is quite different. Some people raise their hands and just want to talk. A few people will ask questions that are only interesting to them. As you answer the question, everyone else tunes out.